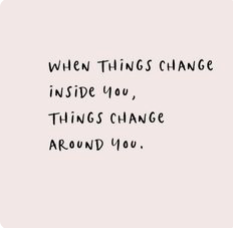 When everything goes the same, we stay the same. When things are shaken up a bit, we change. I'm speaking to the latter today. To put the kibosh on mediocrity, we must change to realize our prosperity and abundance. There is so much good in change. Think Marie Kondo meets Kansas/Emerald City Dorothy.
New job for my HH: his new office is 5 minutes from our home. He is happy and productive and making a bigger contribution to the community.
New home for us: We will transition to our new home in the coming months. This one is more 'house' like, airier, brighter, more charming, quieter, and more prosperous. I forsee more creativity coming from thre too.
New season for all: Spring has begun and the green leaves of flowers are popping up all over our city. The Katy Trail is clear and dry so walking and cycling have begun for me too. I hear there is imminent construction for the Trail, so I will 'hide and wait' to see its positive impact.
Change is growth. Embrace it and good will come.
Aloha🌺,
Denise