I did it: I 'wrote it down', announced it aloud, committed to my friend Allison, and began my prep and training. I'm over the moon excited. Yesterday, I bought a journal to memorialize my thoughts, plans, lists, and questions that arise from now till then. I will pick up another one to chronicle the actual trip details.
According to Wiki: The Camino de Santiago (Latin: Peregrinatio Compostellana, "Pilgrimage of Compostela"; Galician: O Camiño de Santiago),[1] known in English as the Way of Saint James among other names,[2][3][4] is a network of pilgrims' ways or pilgrimages leading to the shrine of the apostle Saint James the Great in the cathedral of Santiago de Compostela in Galicia in northwestern Spain, where tradition has it that the remains of the saint are buried. Many follow its routes as a form of spiritual path or retreat for their spiritual growth. It is also popular with hiking and cycling enthusiasts and organized tour groups. The French Way (Camino Francés) and the Routes of Northern Spain are the courses listed in the World Heritage List by UNESCO.

We will take just over a month, 40 days, to walk from St Jean Pied de Port to Santiago de Compostela, walking an average of 25kms per day with rest days as needed, covering 800kms or 500 miles.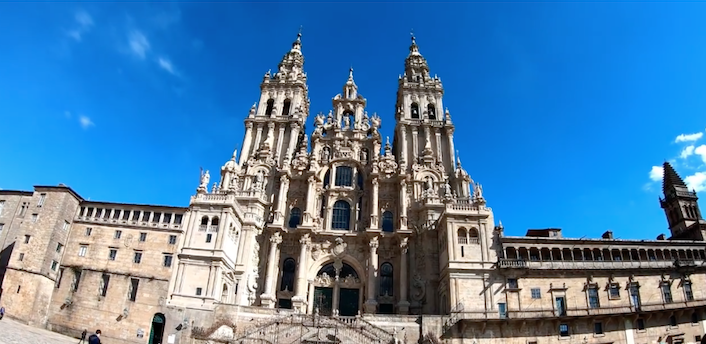 As part of the year-long preparation, I've joined some Facebook forums, watched many YouTube videos, checked out three library books, bought one guide book, and conferred with my friend Andry, who walked the Camino last year. These 'once in a lifetime' experiences really fill my heart and put a fire in my belly! I love having a project and something to work toward: See my blog account of the Women's Heritage Walk of 2015. I trekked 140kms in the Arabian Desert with 28 wonderful women.
If you've walked the Camino, I'm open to any of your tips and tricks!
This empty nester loves to plan, travel, explore, and learn. The prep journey will be as important as the actual pilgrimage. I'm inspired by the people I have already met.
Aloha🌺
Denise
Countdown:
~432 days
🍾🌍👣👣🍷🥘✈️🚗 🇫🇷 🇪🇸